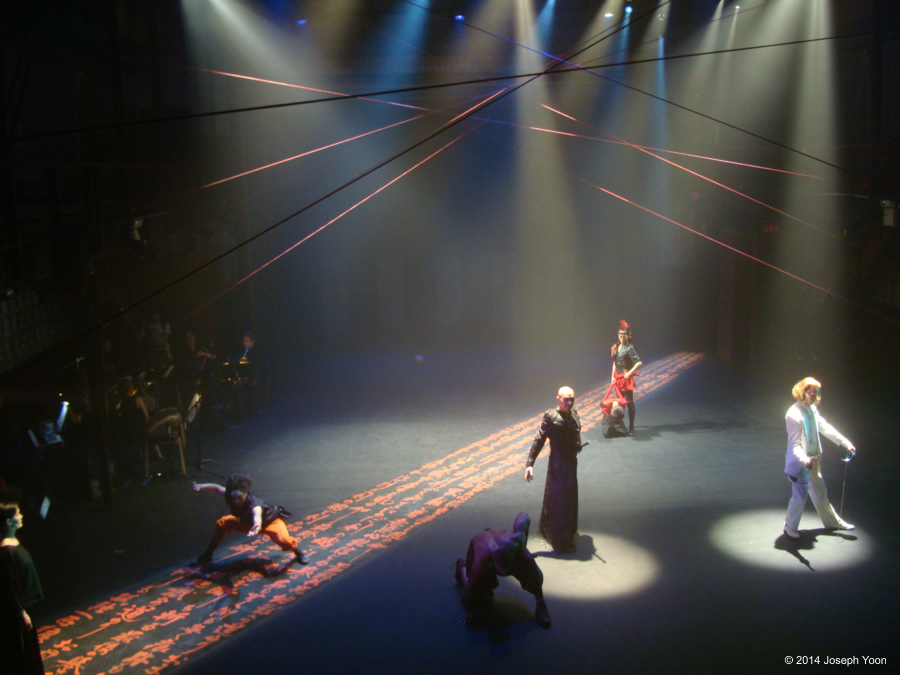 Deadly She-Wolf Assassin at Armageddon! is a martial arts tour de force from long-time collaborators composer Fred Ho and playwright Ruth Margraff. With dazzling ferocity and skill directed by Sonoko Kawahara, Deadly She-Wolf… pays homage to Kozure Ogami's 1970s Japanese raging cult film and TV hit, "Lone Wolf and Cub" with an expansive story and daring choreography for the stage. Margraff's entire text with eleven character voices is performed by one narrator, Marina Celander in a unique style of spoken-song with an array of Japanese Noh, Chinese opera, anime and manga influences.
Fred Ho's virtuoso team unleashes an unprecedented music/theater work of mesmerizing spectacle and emotional power in this world premiere, a grand finale in his life-long series of music-driven martial arts epics critically acclaimed as pioneering, one-of-a-kind, genre-defying and a genre unto themselves.
The world premier of Deadly She-Wolf Assassin at Armageddon! was presented by La MaMa E.T.C, in association with Crossing Jamaica Avenue in May 16th through June 2nd in 2013 at Ellen Stewart Theater in New York city with the producers Big Red Media and Spectrum Music. Receiving the rave reviews around the city, the production enjoyed sold out houses for 3 weeks.
HISTORY OF THE PRODUCTION
Deadly She-Wolf … was originally presented by the Japan Society Performing Arts Department and given a work-in-progress public viewing in April 2005, to sold out houses. It also had two work-in-progress performances in June 2006 at the Mandell Theater at Drexell University in Philadelphia, presented by Peregrine Arts. In the Spring of 2011, Innova Recordings and Autonomedia Publishing co-published and released the actual manga (book) and compact disc combined set of Deadly She-Wolf …
DEADLY SHE-WOLF…was made possible in part with public funds from the Fund for Creative Communities, supported by New York State Council on the Arts and the Manhattan Community Arts Fund, supported by the New York City Department of Cultural Affairs in partnership with the City Council, both administered by Lower Manhattan Cultural Council & The Nancy Quinn Fund, a program of the Alliance of Resident Theaters/New York (A.R.T./New York)